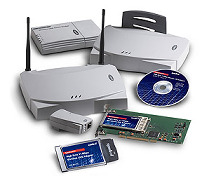 Today's high-speed wireless networks provide for faster data access, and more flexibility with regards to how and where devices may be connected.
Data collection devices, printers, notebook computers, desktops, and even printers can now be connected wirelessly. And, there's no need to worry about providing expensive power outlets for your access points, a single CAT5 data cable can provide both power and data communication.
Allen SoftWorks can help you take advantage of these new technologies. We offer complete site survey and component installation services for your Spectrum24 wireless LAN and data collection devices.
We recommend Symbol Technologies for all our wireless LAN installations. Symbol's wireless LAN solutions are installed at more than 45,000 customer locations worldwide.
Contact us to discuss your application. We provide free estimates and offer reasonable rates.